Parent Category: Publications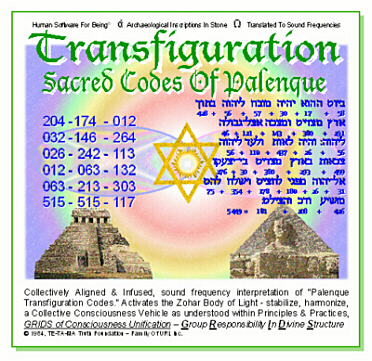 COTC Online News May 23, 2010
NEW BIRTH, NEW EARTH. PENTECOST.
NEW CD - "Transfiguration - Sacred Codes of Palenque"
Dear Colleagues,
It is time to celebrate! NEW BIRTH, NEW EARTH. PENTECOST. NEW BIRTH OF THE CHURCH, CHURCH OF THE CREATOR.® Pentecost, 50 days following the resurrection, is the celebration of the descent of the Holy Spirit to the Apostles, not of the past, but the faith, hope and love that is present NOW and in preparation for the future. This is the time we have been preparing for: The Age of Peace, Age of Miracles – Revelations from the Heavens, Healing, Prosperity to the Children of Light.
Please join us today, Pentecost, in celebrating, infusing the release of a new CD, "Transfiguration - Sacred Codes of Palenque." Pentecost, the season of the Holy Spirit, is otherwise known as the "birthday of the church." Pentecost (or "the 50th day" in ancient Greek) is a holiday of Christianity commemorating the descent of the Holy Spirit, (in Hebrew רוח הקודש Ruach Hakodesh) upon the Apostles, fifty days after the resurrection.
The Christian holiday also derives from the Hebrew celebration, Shavuot, which was held 50 days after Passover and was associated with the first harvest of grain in the spring. The Jewish holiday, also referred to in the Bible as "the feast of weeks," came to be identified with the revelation on Mt. Sinai when Moses received the Ten Commandments.
Why is Pentecost so important?
It is connected to Christianity's central image of God as Trinity. Over many centuries Christians have come to understand God in three ways. First, as God the Creator in nature; second, as the Son, in the story of the life, death and resurrection of Jesus; and finally, as Spirit. The Spirit represents God as living and active in the world today. It signifies the fact that the Christian faith is not just about events that happened in the past, rather it concerns the present and the future. The Spirit is God's animating presence in the church, and indeed, in life itself. Hence, without its Spirit, the church is dead, and without the Spirit, all that is creative and wonderful in life itself ceases to exist. (Biblical Reference Acts 2: 1-20)
Revelations Activated, Consciousness Infused, Choices Made = CHANGES
End of 12 Month Cycle - Today also demarks the conclusion of a 12 month cycle, 2009 Annual Conference "Call to the Priesthood of Melchizedek" - Infusions, Activations of Codes of Transfiguration - Sacred Codes of Palenque, the Christ Angle, "Chamber of the Dead" Giza mathematics.
Collectively Aligned & Infused sound frequency interpretation of "Palenque Transfiguration Codes." Activate the Zohar Body of Light - stabilize, harmonize a Collective Consciousness Vehicle, as understood within Principles & Practices of GRIDS of Consciousness Unification – Group Responsibility In Divine Structure.
TRACK 1: Opening Alignment - Voice Activated Multidimensional Merkabah 4:20 minutes
Track 2: Sound Frequency Activation, "Chamber of the Dead," Great Pyramid of Giza
Progression, 428 Hz to 5449 Hz, with 30 steps, binaural beat of 2.06 from The Book Of Knowledge: The Keys of Enoch, Key 206. The sequence is interpreted from the mathematics of the length of the "Chamber of the Dead," in a serpentine pattern, as the double-helix DNA strand, to the entrance of the Great Pyramid of Giza, computing a total of 5449 pyramid inches. Also a measurement from base of Pyramid's exterior to crown of Pyramid, which is to receive the capstone of the Savior. 15:00 minutes
Track 3: Sound Frequency Activation of Sacred Codes of Palenque - Binaural beat of 2.15 Hz frequency synchronized with The Book Of Knowledge: The Keys of Enoch, Key 215. Each numeric code, paired with a sound frequency, held 49 seconds synchronized with verse 49, the 49 stages of Consciousness Regenesis, 49 Estates of Consciousness Bardos. 15:00 minutes
Track 4: Voice Activated Infusion, Priesthood of Melchizedek 7:36 minutes
Track 5: Transfiguration Codes of Palenque & Christ Angle Sound, Color & Light. Tracks 2 & 3 sound frequencies amalgamated, activating Christ Angle, chamber underneath the Eye of Horus, marking the limit beyond which no "death functions exist" as the evolutionary cycle of man is focused through the Chamber of the Son into the new programs of the Adonai 'Tsebayoth. Transfiguration - where birth, death and resurrection are fused. 15:00 minutes
Track 6: Healing & Sealing of Adjusted Consciousness Bodies 1:45 minutes
Order Online: Transfiguration - Sacred Codes of Palenque©
Suggested Donation for CD: $17 (plus $5 shipping, handling)
You may also place an order by sending check or money order for $22 per CD to
COTC, P.O. Box 157, Ashland, OR 97520
541-776-9191
In Oneness Of Service,
COTC National Council - COTC ARC - Accord Resolution Council