Parent Category: Publications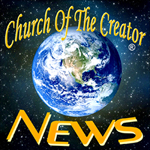 October 14, 2018
2019 Annual COTC Associate Minister Credential Renewal
2018 Recognition of Associate Ministry Anniversary Events
Transition of Rev. Rosemarie Kaye Hammer Taylor
Beloved Colleagues,
Our love, support, Beholdance of each, all Associates, your effort, your family, your Ministry,
recognizing the anchoring of Divine Law within Our Consciously Unified Collective Efforts, through the legal organization, your current active Professional License, Ministerial Credential, within Church Of The Creator.®
Your Individual effort, legally anchored, joined in this plane and dimension, when Amplified by Multi-Dimensional Alignments, within and through The Office of The Christ, brings automatic change for who you are and who you represent, exponential results, Consciousness Evolution, Manifestation of Heaven on Earth! Keep up the Good/God Works! – COTC National Council.

Annual Ministerial Credential Renewal - Due on or before December 28.
Be proactive, act now, go to COTC eStore, "Fees and Services", 2019 Annual Credential Renewal Fee. Consider an additional Contribution to support COTC Programs and annual operational expenses. There is a need and the Annual Renewal Fees only cover a small percentage of annual expenses. Ask, within Divine Priorities, "what action, my part, is in highest and best for the Whole of Creation?"

A "Registered User" account is vital to you role as a Minister of the Church. If you have not done so, please do it now, Create an Account. Click Login Home Page, top right.
COTC PayPal Invoices were sent to assist with Annual Credential Fee Payments. You do not need to have a PayPal account to use this online payment method.
2018 Annual Ministerial Activity Report is due on or before December 28, 2018. Electronic Annual Reports are preferred, via email This email address is being protected from spambots. You need JavaScript enabled to view it. or an attachment to an email or by using the "Contact Form". Remember to include all current contact information, legal name changes, attach documents, address, email, phone numbers etc
---
Monthly gifts are the lifeblood of most nonprofit public benefit organizations.
Church Of the Creator® / TE-TA-MA has only one monthly reoccurring automatic contributor supporting the ongoing operating expenses of the Church: State Registrations, Digital Publishing including monthly hosting fees, domain registrations, internet service, Post Office Boxes, Telephone Number services, etc.
Recurring Contributions help support Our Divine Collective Mission. Please stop, pray/Align ask - Does it serve the Divine Plan for me to set up a monthly Recurring Contribution Plan ? To do so -

Click on the Donate Button - Top of COTC Home Page
---
2018 Recognitions - Anniversary Events since Ordination - Issue of Ministerial Credentials
Of note as we close out 2018 are the long standing Ministries, our Active Colleagues, Congratulations!
35 years - Rev. Shari Uri-El Berne 04-02-1983
25 years - Rev. Dr. Diana Febres 01-26-1993
25 years – Rev. Carol Horner Owens 05-14-1993
20 years – Rev. Deborah "Selene" McShan 06-07-1998
20 years – Rev. Dr. Tabitha Nichole Taylor 09-12-1998
15 years - Rev. James Andrew Foley 04-20-2003
15 years - Rev. Alison Louise James 03-22-2003
15 years – Rev. Andrew Ian MacGregor 11-16-2003
15 years – Rev. Doris Helen "Lily" Quintana 09-17-2003
15 years – Rev. Grisel B. Sanchez 04-06-2003
15 years – Rev. Dr. Lourdes Rivera Torres 05-05-2003
5 years - Rev. Amilda I. Campos 02-09-2013
On behalf of TE-TA-MA Truth Foundation–Family of URI, Inc. and Church of The Creator® we give thanks and gratitude to all our Colleagues, many years in Ministry, Service to the Whole of Creation.
---
Transition of Rev. Rosemarie Kaye Hammer Taylor (07-30-1945 to 07-24-2018)
A resident of Lutz, Florida, ordained on August 25, 2002, Rev. Rosemarie Taylor was a dedicated Minister in service to humanity. She believed in the natural order of things and practiced the Earth, Human and Soul connections of many Native Americans. She believed that when her Soul Mission was complete, she would exit the body, and was ready to go Home. Many thanks to Rev. Rosemarie from her Colleagues here on Earth, and we know she was greeted by many in the Heavens with thanksgiving of a life of service and love!
In the words of Rev. Rosemarie Kaye Hammer Taylor:

"To CHURCH OF THE CREATOR®
HEH, (HELLO)
MY GOODNESS, ANOTHER YEAR, TWELVE MOONS, 365 DAYS HAVE GONE BY. HOW REMARKABLE TO HAVE EXPERIENCED SO MUCH IN SUCH A SMALL AMOUNT OF TIME. WHEN WE ARE ABLE TO PAY ATTENTION, WE ARE ABLE TO RECOGNIZE EACH WONDEROUS GIFT 'CREATOR' PROVIDES.
A FEW OF THE MANY GIFTS I HAVE CLAIMED IS TRAVELING [COLORADO] TO BE WITH A FRIEND THAT WAS IN A DESPERATE MEDICAL CONDITION. GUIDING HIM TO ALLOW HIS HEALING WAS A REAL CHALLENGE FOR HIM, YET HE ACCEPTED THE GIFT.
ANOTHER OPPORTUNITY INVOLVED MORE TRAVEL [ALABAMA] TO FACILIATE THE HEALING JOURNEY OF A VETERAN DIAGNOSED WITH PTSD. THIS SPIRITUAL, EMOTIONAL MINDFUL AND PHYSICAL TRANSFORMATION WAS TRULY DRAMATIC TO PARTICIPATE AND WITNESS' FOR THE PATIENT AND ME.
WITH 'CREATORS' DIVINE GUIDANCE IN ALL THINGS, WE EXPERIENCE MIRACLES.
MY CALENDAR INCLUDED HOSPITAL VISITS TO PATIENTS IN NEED OF PAIN RELIEF AND REASSURANCE. IT IS ALWAYS AN HONOR TO PARTICIPATE IN THE TRANFORMATION.
LOOKING FORWARD. TO MY FUTURE SCHEDULE WHICH INCLUDES WEDDINGS, BIRTHINGS, AND CROSSINGS, I AM GRATEFUL TO BE ENTRUSTED WITH THESE WONDEROUS EVENTS.
WANISHI [THANK YOU],"

Rev. Rosemarie Kaye Hammer Taylor, Lutz, Florida December 14, 2016