Parent Category: Publications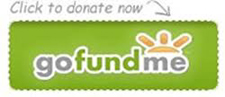 January 13, 2018
New Fundraising Platform Activated
Gofundme Campaign Contributions fund ® Registered Trademark 10 year Renewal Expense

United States Patent & Trademark Office – due before July 2018

European Union – due before December 2019
Call to Action - All Active Ministers of the Church
Read the entire issue of COTC NEWS

Open all links within COTC NEWS

Share - Social Media Contacts, email Contacts, text Contacts
Beloved Colleagues,
A fundraising campaign for expenses associated to the ® Registered Trademark Church Of The Creator® has been activated to raise $3,000.
GoFundMe is a trusted, free, highly used platform with PayPal and Certifications already established for the Church.

https://www.gofundme.com/ enter in Search Box Support Unity Stand Up For Truth
Key is reaching people who want to support good causes that touch their hearts.
Your Action – share on social media – include in email distribution lists – attach to text - direct face to face requests – asking for support to the good works of the Church.
Importance of Renewal of Trademark – details of Cause and Effect
If you have read the details on the above COTCgofundme link, you have visited the Church Of The Creator® Wikipedia page. You have read what others see, understand, relative the ® Registered Trademark Church Of The Creator.®
The "ripple effect" now being seen across the complete spectrum of human expressions, equality for each and every Child of God, is now on the surface, to be seen, so we, all human beings can "Support Unity – Stand Up For Truth."
As a Minister of the Church, you should have an understanding of the cause of the purification, specifically as represented in the details of the Trademark Litigation firmly anchoring the "Family Unification Of Mankind In All Aspects Of The Whole." Court Orders, man's law, prohibiting those promulgating hate/fear based philosophies, violent acts, using any name containing "Church" and "Creator" together.
Anchoring the "Complaint" within man's law, within US District and Supreme Courts, asking for help, Decreeing Divine Right Order® the "ripple effect" has now spread across the waters of human expression. It is important that the anchor, recognition of "This Planet Earth and its Systems Is a Designated Affiliate Temple of The Holy Trinity," Church Of The Creator® remain active, legally renewed for the next 10 year period.
Invite others to support by sharing the need for funding for the Service of the Foundation and Church.
In Oneness of Service,
Revs. Drs. Angela Magdalene URI & James Germain URI
Members, Board of Directors, TE-TA-MA Truth Foundation
---
Church Of The Creator® Divine Right Order® URI® Human Software For Being® are registered trademarks of TE-TA-MA Truth Foundation - Family of URI® Inc. © 1977-2017. All Rights Reserved.
Note: As Licensed and Ordained Ministers of the Church, you are encouraged to share/distribute to your contacts, colleagues, family, the above and other COTC News Issues. Please share on Facebook, or through other means of distribution as guided. The request is not to modify the content and to include the proper source credits.