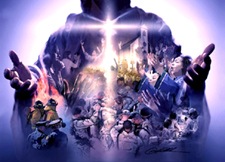 "Functioning Body of the Church" Easter Remembrance
As we enter into a period of "Holy Days" following Fat Tuesday into Ash Wednesday, Lent, Maundy Thursday (Last Supper), and Good Friday (Crucifixion), culminating in the Celebration of the Resurrection on Easter, we are called in 2019 to look deeper within our lives, use our Spiritual Discernment, apply through example the Truth of the message our Beloved Brother delivered.
His message was for Believers, those claiming to be within the Body Of Christ, living, amplifying the New Vibration of Cosmic Christ Consciousness, anchored through His Spiritual Commission, active in 2019 through participation within the Functioning Body of the Church.
"It is through Direct Spiritual Lineage that those of Like-Vibrational Patterning are coming together as agreed before entering this Earth Plane to work in a Group Consciousness to help this Planet and Mankind." 1

What is the Functioning Body of the Church?
Webster's Dictionary:
Function(ing) = any of a group of related actions contributing to a larger action
Body = a group of individuals organized for some purpose
Church = house, home, Divine place of worship
Parts of the body, by design, are different, each working together, manifesting the Whole of the Body. This is the Divine Blueprint, GROUP - God - Represents-Our - Unified - Parts. The Functioning Body Of the Church.
When we read, see, use or proclaim our part within the Functioning Body of the Church, what does it mean, what are the origins?
Being aware of the "definition" of Functioning Body of the Church is quite different than "embodying" living the this Truth.
When we partake, re-member, within the ceremony of the Last Supper, communion, it is a reaffirmation of the Spiritual Union between Christ and communicant. This communion is memorialized as the body and blood of Christ.