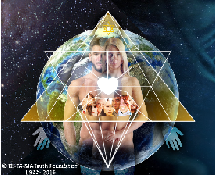 O R D E R within Chaos requires "Spiritual Discernment"
Spiritual Discernment is critical to navigate the accelerated purification of humanity. Life, living, circumstances, relationships, ideas, things are not as "black and white" as they used to be…there is a much larger gray area. There is so much going on around us, "fake news", consciously created propaganda (eg: "information, especially of a biased or misleading nature, used to promote or publicize a particular political cause or point of view") intended to shift consciousness, cloud our Spiritual Discernment of Truth. The gray area widens, the mind begins to accept consciousness that it once rejected…the clarity of Spiritual Discernment and Knowing can become "blurred." It is imperative we remain within the "Pillar of Light, within and through the Office of The Christ" in every thought, word and deed, 24 hours a day, seven days a week.
How we are using, giving, focusing our God Essence Energy, in thought, word and deed is critical, our contribution assisting or delaying change. AM I assisting or delaying the Divine Plan within this Time/Space continuum, the Ascending/Descending Programs of the Office of the Christ? Ask, review, receive, adjust, use your direct connection to the Holy Spirit Shekinah for navigation assistance. Keep your GPS - God's Perfected Synchronization - switched on.
Individually and Collectively, WE are being called upon to exercise our Spiritual Discernment to navigate through the "eye of the needle," release negative, fallen thought forms. We are being asked to embrace and amplify pure thoughts, Aligned with the Ascended Masters of Light, Angelic Hosts, Heavenly Hierarchy, so former things are no longer called to mind. Your part counts, individually and Collectively we are Co-Creating the New Earth within New Heavens!