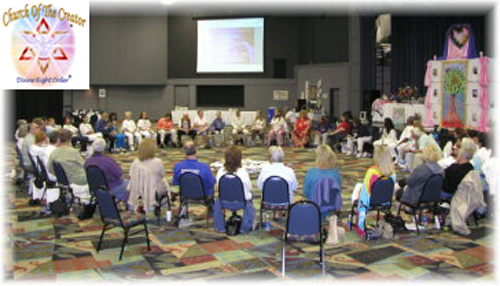 COTC Seminars

™
Certified & Authorized Expressions of Church of The Creator® Facilitated by: COTC Certified Seminar Facilitators.
Presentations vary in length to compliment the circumstances of those hosting, facilitating and participating. Experiential Collective Participation, recommended for all Ministers, Candidates for Ordination, invited guests, or anyone interested in experiencing the Principles & Practices of Church Of The Creator®. To schedule and/or host a COTC Seminar™ Contact COTC.
GRIDS Accord Seminar

™
These are new configurations of unified function, unique according to participants from prior experience of "group work". Generally when working in a group, individuals calling the meeting have intent to move their own agenda forward. In practicing the techniques of GRIDS Accord Seminar,™ each participant agrees to set aside all preconceived ideas to seek collective guidance through Alignments to Divine Will. The intent is to move forward the Agenda of our Heavenly Parent, Heavenly Counterparts, what is most important within and through Office Of The Christ. Participation yields a profound harmonious experience. GRIDS Accord Seminars™ are tailored in length, from half day to multiple day events...continue
COTC Path Seminar

™
Expand understanding of Church Of The Creator® - Primary Tenents of living the COTC Path as an Associate Minister. This in-depth Collective Merkabah yields understanding of Divine Commission, Sacred Covenant & Pact, COTC History, Inheritance as Ministers, Priesthood of Melchizedek, broadcasting a vibrational frequency of Divine Light, as a Beacon Calling All God's Children Home! ... continue
Priesthood Of Melchizedek Seminar

™
Exploration of the Order, Brotherhood, Priesthood of Melchizedek and relationships with the Orders of Michael, Enoch, and Metatron ....continue
Certified Facilitators of COTC Seminars

™
Revs. Drs. Angela Magdalene URI & James Germain URI, Ministerial Unit, Members of Governing Council Body, Board Of Directors, Officers of TE-TA-MA and COTC National Council. Unified in Life and Service, living within the GRIDS of Consciousness Unification.
For Further Information and/or Hosting COTC Seminars™ in your region: Contact COTC