Rev. Dr.

Grace Marama URI

March 18, 1932 - May 26, 2006
Founding Mother of the Church
Chronological Summary
1969 Dispensation of Divine Right Order®

1972 Grace House

1975 Grace House Prayer Ministry, Inc.

1976 TE-TA-MA Truth Foundation - Family Of URI, Inc.

1982 Church Of The Creator®
Our Hearts Celebrate the Joyous Honor of living, serving daily with Beloved Grace. No words can convey the depth of how much those of us at TE-TA-MA/COTC National Office/Home will miss her being here with us. Always the Mother. Always making sure we remember who we are. Always reminding us that we are Ministers, in service to our Parent Creator. Always setting the example, Beholding our perfection, allowing and calling forth the Grace of our being.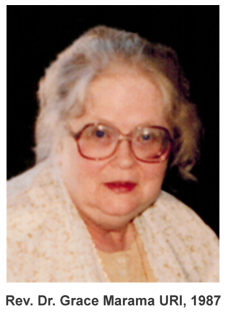 The last few years have been intensely difficult for Grace. Nothing however, could prepare those close to her for the dichotomy of the last year and from April 30, the 26 days, at her side in the Rogue Valley Medical Center, Medford, Oregon. We beheld the depth of the pain she endured, moved through her heart, as she completed her pact and covenant with our Heavenly Father, her task complete.
We had the honor to behold the unmistakable Grace of her being as she transformed each and every person, with whom she came into contact, washed the souls of who they represent.
In the medical center, she reflected in the most unexpected ways what needed to be changed and provided the gateway of God's Grace, for the exercise of compassion that melted the minds and opened the hearts of those who give care to departing souls.
Every human being has received benefit of her Ministry on our Beloved Planet Earth, Church Of The Creator®.
The Scope of what she accomplished is only fully comprehended in the Heavens. Few on this Earth could fully embrace, witness her Ministry, the vast scope of her Divine Commission, even when transmitted from within their own heart. Some of her understanding and perspective are expressed, what she with her co-founder, conceived, anchored and established within "Historical Legacy & Foundations Of The Church."
Her Earthly Legacy are the Foundation, Principles and Practices of the Church. Space Of Grace, Parables in Prose, The Father's Song To His Children, Sacred Mandate, TE-TA-MA Truth Foundation-Family Of URI, Inc. - Articles of Faith & Constitution, Church Of The Creator® - Ecclesia Magna Charta - Consecration, Dispensation, GRIDS of Consciousness Unification, activation of Divine Law/Intervention through the Divine Dispensation/Decree of Divine Right Order.® The foundation stones on which we build, bear witness to her Legacy. Her unending effort, demonstration by example, beholdance of others and unconditional love are the mortar that is the Mother.
Grace requested no tears of sorrow, only joy. Grace requested she be honored by our continuing to build upon the Foundation in Truth, that the Mother, Sister, Daughter, the Female aspects of the Mates of our Being be joyously restored to their rightful position, side by side, with the Father, Brother, Son – The Family.
Grace asked many years ago that support come to the Church, to continue the good works. Contributions in her memory, support in the continuance of her service may be made through the Grace Memorial Fund on line, or through general Contributions to the Church.
Additional pages in Memorial to Rev. Dr. Grace Marama URI will be placed online periodically. Your contribution to that endeavor is requested. If Grace touched your heart, please, as the memory comes forward, in review, write it down. Share the details, send your testimonial, use Grace Memorial Contact Form, or an e-mail or mail to COTC and the record of your experience will be published along with photos, her parables in prose and other records of her life of Service to the Creator and each of us.
COTC National Officers and Staff are already getting reports of Grace making her presence known, now in the fullness of her Lifestream, no longer limited by the physical body, in dreams and vision. Her life is everlasting and she is already doing her part in the other planes and dimensions of her service, which are vast indeed!
Thank you for your support. Change is at hand. COTC National Staff, her Beloved partner, Rev. Dr. James Germain URI, and other Officers and Members of the various Boards and Councils of COTC and TE-TA-MA will continue, in her Honour, to be about the Creator's Business –
Shalom - may our Beloved Grace Celebrate, with the Heavenly Hosts – Her Life – a Blessed Example, a job well done, Amazing Grace Our Beloved !
---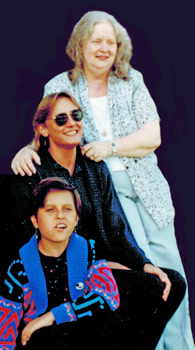 March 18, 2007 - Memorial to Mom -
I write this on the day my mother was born March 18th. Today would have been her 75th birthday. I write this to honor her. You see I have a different story to tell. I am her flesh and blood. I have a different relationship with my mother, whom I loved more than anyone on this Earth.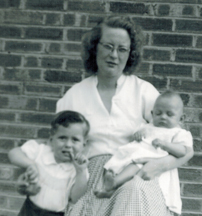 The ground has slipped away from under my feet, and yet, I am trying to sit in this empty space that has been left behind. Mom, it has been 10 months now since I last held your hand and felt the warmth from your body. Thankfully, the warmth and the love that has supported me, mothered me, directed and reassured me did not come from your body. I know now that it came from your soul. Because I still feel it. I can still hear it in your voice calling to me "Deborah Mary" things will be all right. And just as in life, I have to believe you Mom, because you were always right in life, more right than anyone I have ever known. I would not dare to challenge you in death.
The last discussion we had before you went into the hospital was of the good and bad times over the last 50 years. Goodness, 50 years. We shared memories. Memories of what we had been through to get to where we are now. All in all, that day we both decided that we did all right. We did all right.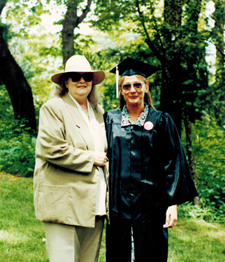 Those memories will remain private. But I want for all to know that I am so filled with love from my mother and I am so blessed to be her daughter that I am comforted at this sad time. My mother is a very spiritual person who had an unshakable faith. I know my mother is here with me and I know I will see her again. Her death was peaceful. Her death transformed my life, for I no longer fear death. She has given me many gifts but this was the most profound. For all of you that loved her, thank you for being a part of her life. She taught us about courage through her daily acts of bravery and she was a fighter to the end. My mother was a beautiful woman. She was a true lady and carried her self with grace. She was always there for me when I needed her. I shall miss her always.
Love your daughter,
Deborah Mary
Photos
Photos: Top Left, Grace, Deborah, Christa - Three Generations - 1987 Canada, Timms Family Reunion
Right: Grace Daphne Timms Steffen, Son Paul Gregor Steffen, Daughter Deborah Mary - 1949
Bottom: Grace Celebrating with/at Deborah's Graduation from Southern Oregon University, Lithia Park, Ashland, Oregon
---