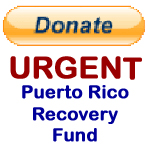 Dear Brothers and Sisters,
The current situation, state of affairs in Puerto Rico continues to be dire. We have been in constant prayer and decreeing Divine Right Order® since the day Hurricane Irma, then Maria hit the island. And, of course, all of our Prayers are still needed.
COTC shared on September 28, 2017 that a "seed contribution" of $200 was wired to Puerto Rico, Rev. Dr. Lourdes Rivera, and additional financial assistance of $300 was wired October 20, 2017. Thank you to those who have contributed…it counts!
COTC would like to continue support, as the state of affairs in Puerto Rico is not rapidly improving, many are still unable to work, earn an income, have access to clean drinking water, water to bathe, etc. For who you are, who you represent, ask what you can do, your actions will be amplified and make a difference, open pathways for others to act.
The Church has "seeded" the process and is asking each one to Align, Pray and take action to send a contribution, designating specific fund to Rev. Dr. Lourdes Rivera, for her and her Ministry in Puerto Rico and/or other designated support as guided to COTC.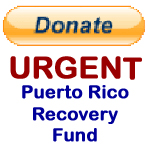 Rev. Dr. Lourdes Rivera has been in contact with COTC and is doing OK for now. Here are updates, communications from her, the process she is living through, consciously, for who she is and who she represents!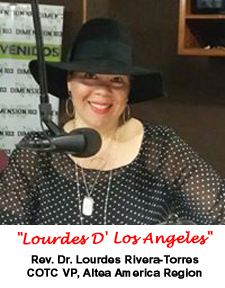 Fri 10/13/2017 12:07 PM
Dear Church,

What you see on the news is true. The biggest problem is the infrastructure of the electricity in Puerto Rico. That was very outdated before the hurricanes and with the disasters they cannot fix it soon enough. That has stopped all the other companies in fixing its buildings. They can't get back to work.
The water is not safe. From where I am, I have access to food, but it is very high priced. But we are helping each other. Cleaning is the biggest issue. That is highly important. Without proper management of bodies and animals on rivers we are in red alert on viruses. The government is very slow. So we have to be very vigilant of cleaning food and water that we drink.
The worst is that only few people are working. As I see it will take some time because there small and medium business can't operate without utilities and security. And only the 40% of communications are available. Most of the companies like AT&T, CLARO, SPRINT, T-MOBILE...brought specialized Professionals for the restoration of Antennas, Internet, etc.
I am strong but, praying. The lines for everything are exhausting. I appreciate so much your prayers. Without that, this situation will be unbearable.
God bless you all. My love and gratitude also for keep beholding us.
Lourdes
THU 10/19/2017 11:40AM

Dear COTC –

Yes I did receive it (the wire).
My cousin sent us yesterday a package with batteries, cleaning napkins, baking soda and some flashlights. We were very happy because that are some items not easily found here. I will let you both now what is still getting hard to find.
Today, I could begin my first Radio appearance. They are fixing all the damage of the station and certain parts are already in operation. I talked about how to reclaim back your life after Hurricane María. Of course, it was harder to put myself as an example of how hard it is...but, service, love, listening and taking care of each other, empathy and kindness should lead the way. They seemed to like it and I hope the audience did too!
I am blessed with all your help and love.
Thanks so much.
Lourdes
COTC/TE-TA-MA has 3 Active Ministers in Puerto Rico at this timing. Rev. Dr. Lourdes Rivera ministers to thousands on the island of Puerto Rico since 2002. As well as COTC, she is active through, Isla de Angeles, her Non-profit Organization emphasizing education through Conferences, Motivational Speaking, a Weekly Radio Show and Transformational Courses. She represents Church Of The Creator® well, each and all of us, individually and Collectively, integrating her personal Ministry within the Collective Ministry and Mission of COTC.
May God Bless us each through this time of chaos and change. Please act NOW! Funds are forwarded via wire transfer and the pipeline is open!