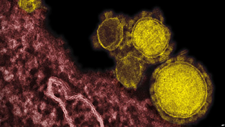 COTC NEWS - 3-19-2020 - STABILIZE -

Coronavirus (COVID-19) - Spiritual Perspective
Greater Picture and Plan
Within the accelerating spread of infection, there is a "Wake-Up call to Human Consciousness" - individually and Collectively the Whole of Human Consciousness.
The narrative of this global pandemic feeds fear. Fear triggers survival mode, impulses, instincts, faster than thoughts, or emotions.
Discernment becomes critical. Do we act upon fear, impulses and demands of our ego or the ego of others? OR - stop, listen to what is within us, discern the reality of Divine Guidance, our specific path, next steps we are to take, custom designed for our life walk, coming from a direct connection, within every Child of God, emanating from Our Parent Creator Source.