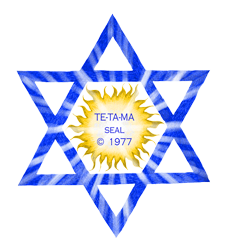 July 14, 2020 - COTC News
TA-TA-MA's 55th Anniversary
Ministerial Reports – Walk of Faith
Beloved Colleagues,
This is a momentous day. A day for well earned Tribute.
HAPPY ANNIVERSARY!
TE-TA-MA Truth Foundation-Family Of URI, Inc. – YEAR 55 of Service!

We have been working at the National Office digitizing written documents of the Foundation – TE-TA-MA and Church Of The Creator.® Within some hand scrolled notes by the Birthing Mother and Co-Founder, Rev. Dr. Grace Marama URI, notes, dated, November 14, 1976. This notation was written, while on the road to "Gather The Twelve Sisters." Father's/Mothers, Sisters/Brothers, Daughters/Sons from the past and those to step forward in the future, About OUR work and service in coordination with the Orders of Michael and Melchizedek.
"Those diligent workers in the vineyard shall not be forgotten, those who for so many years have ploughed and furrowed, weeded and tilled, who have by their own individual concept dared to be different. Those who have not minded be classed as fools, knowing that with in their very Being, they must bring forth their Truth. Here I Behold all of these, those of the Halls of the Saints, the Martyrs, the Prophets and give thanks. This is so all, all who have held in their state of consciousness, the Heaven on Earth. Not always understanding, but because of their gifts giving others glimpses of the other planes and dimensions, the time of lifting up is so close, so close. It always amazes me, as I Behold the Kingdoms and the Glories there-of.
These are not forgotten, for the Space they have made and held as we move the closing of this cycle and move completely into the next.
I give thanks for all of Like-Mind and Blessings in Love and Light."

Selah,
Grace Christna URI